Shopping Cart: Empty
->
Cactus & Succulents
->
Other Succulents
Adenium Sculptural Elegance, Floral Extravagance

Author: Mark Dimmitt, Gene Joseph, David Palzkill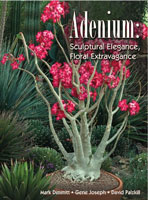 This authoritative and sumptuous book, authored by experts on growing and propagating this lovely plant is chock full of information on the various species that make up the group, history of its cultivation, cultivars and hybrids and detailed information on successfully growing and propagating it. The book contains 490 photos and 152 pages of Adenium goodness. Whether you are a hobbyist interested in learning everything possible about this group of plants or just someone who wants to keep a few on his deck or porch in pots you will find a lot of useful and practical information on how to be successful with Adeniums.

This book is temporarily on a long backorder. Please do not order until this message is removed.
List Price: $29.95
Your Low Price: $29.95
This book is out of stock and my not be available for several weeks.
Specific Details
Softcover: 152 pages
Illustrated
Title: Adenium
Author: Mark Dimmitt, Gene Joseph, David Palzkill
Publisher: Scathingly Brilliant Idea
Date: 2009
ISBN 10:
ISBN 13:
Language: English
Weight: 0 lbs 13.8 ounces