Shopping Cart: Empty
->
Cactus & Succulents
->
Cactus Only
Cacti of the Desert Southwest

Author: Meg Quinn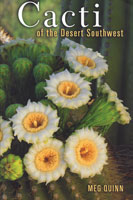 Also published in 2001, Meg Quinn must have finished this book shortly after The Cactus Family was released, since she based the scientific names in her book Cacti of the Desert Southwest on those listed in The Cactus Family. The nomenclature used in this book is therefore up-to-date. I found this wonderfully well-organized book specific to cacti of the southwest very practical as a field guide while traveling through the deserts of the southwest. Large, full-color photography coupled with specific information on the distribution/range of each species makes identification a snap. Quinn's book is an 88 page soft-cover that I would recommend to anyone who is planning a visit to the Desert Southwest.
List Price: $12.95
Your Low Price: $11.50
This item is on order with publisher
new orders will ship upon arrival.
Specific Details
Hardcover: 88 pages
Illustrated
Title: Cacti of the Desert Southwest
Author: Meg Quinn
Publisher: Rio Nuevo Publishers
Date: 2001
ISBN 10: 1887896287
ISBN 13: 9781887896283
Language: English
Weight: 0 lbs 8.0 ounces