Shopping Cart: Empty
->
Cactus & Succulents
->
Cactus Only
Trout's Notes on San Pedro & Related Trichocereus Species A Guide to their visual recognition with notes on their botany, chemistry & history

Author: Trout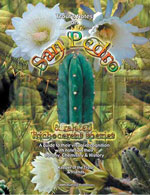 San Pedro includes the cacti known as San Pedro and related Trichocereus species. It's wealth of photos can assist readers in gaining familiarity and some understanding of this often misunderstood and bewildering grouping of species and hybrids.

These large, fast growing, columnar species have been reported to contain mescaline. Several have long sacramental histories; recorded in the assorted chronicles left by the invaders of the "New World" and in ancient Peruvian art spanning many years of their vibrant and beneficial relationship with humans.This relationship persists even into modern times. Originally released as the Trichocereus chapter of Sacred Cacti, the text of this edition has been expanded to include corrections and updates along with hundreds of additional photos! (Black and white) San Pedro provides an informative examination of the botanical characteristics, horticultural offerings & points of confusion, sacramental histories if known, published chemical analysis, if any, and reported pharmaconautical applications.
List Price: $25.00
Your Low Price: $20.50
This item is on order with publisher
new orders will ship upon arrival.
Specific Details
Softcover: 310 pages
Illustrated
Title: Trout's Notes on San Pedro & Related Trichocereus Species
Author: Trout
Publisher: Mydriatic Productions
Date: 2005
ISBN 10:
ISBN 13:
Language: English
Weight: 1 lbs 15.2 ounces