Shopping Cart: Empty
->
Cactus & Succulents
->
Other Succulents
Lithops - Treasures of the Veld 2nd Edition 2010

Author: Steven A. Hammer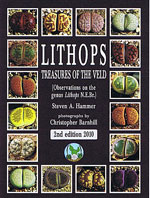 This new edition with eight extra pages contains descriptions and pictures of all new taxa and cultivars since the first edition published in 1999. Also included are further pictures of those described in the first edition, 27 extra full-colour pictures in all. There are 156 pages in this new edition, 238 pictures, mostly in full colour, and two maps. As in the first edition, Steven Hammer with his usual mindstretching vocabulary and graphic writing style, unfolds the history of these little treasures; shows us the plants in habitat, a necessary step if we are to be able to understand their requirements in cultivation; illustrates their distribution; introduces us to their powers of self-hiding and enlightens us about the precipitation they receive in the wild. He also takes us in the greenhouse and advises how best to cultivate lithops, from pollinating the plants to seed-raising, from light requirements to resting the plants. With the excellent photography of Chris Barnhill and others, the reader is then treated to a profusion of lithops mugshots. The photographs are mostly taken without flowers - to have included them would have hidden the plant in many cases - but a separate section shows many of these 'stones' richly in flower. Accompanying the photographs are descriptions, distributions and other notes for each species, including observations on any cultivars for that species.
List Price: $42.00
Your Low Price: $41.95
This item is on order with publisher
new orders will ship upon arrival.
Specific Details
Softcover: 156 pages
Illustrated
Title: Lithops - Treasures of the Veld
Author: Steven A. Hammer
Publisher: British Cactus and Succulent Society
Date: 2010
ISBN 10: 0902099922
ISBN 13:
Language: English
Weight: 0 lbs 15.8 ounces