Shopping Cart: Empty
->
Trees & Shrubs
Remarkable Trees of South Africa

Author: Neels Esterhuyse, Jutta von Breitenbach, Hermien Sohnge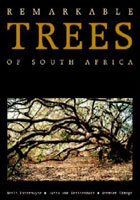 From the majestic yellowwoods of the Knysna forests to the strange halfmens of the Karoo and the delicately beautiful flowering tree fuchsia and wild gardenias, trees are one of our most valuable national treasures. Trees not only provide us with food, fodder, building material and shelter to man and beast against the extremes of the weather, they bring beauty and joy to our parks and gardens. Remarkable Trees gives the reader a fascinating glimpse into the world of trees – from the biggest to the tallest to the oldest trees in South Africa. Written in an easy, anecdotal style, the authors relate – in text and photographs – the historical, cultural and economical significance of South Africa's trees. The book also includes the authors' selection of the Big Five Trees of South Africa, accounts of the major tree families as well as an overview of trees as monuments and in botanic gardens, parks and arboreta. Anyone with an interest in history and nature – and South African flora in particular – will find this book a compelling read.
List Price: $33.00
Your Low Price: $17.58
This item is on order with publisher
new orders will ship upon arrival.
Specific Details
Softcover: 160 pages
Illustrated
Title: Remarkable Trees of South Africa
Author: Neels Esterhuyse, Jutta von Breitenbach, Hermien Sohnge
Publisher: Briza Publications
Date: 2001
ISBN 10: 1875093281
ISBN 13: 9781875093281
Language: English
Weight: 1 lbs 3.1 ounces