Shopping Cart: Empty
->
Cactus & Succulents
->
Cactus Only
Christmas Cacti (hardcover) The genus Schlumbergera and its hybrids

Author: McMillan, A.J.S. & Horobin, J.F.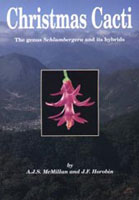 This book includes info on true Christmas Cacti, of course, but its subtitle better describes the contents; The genus Schlumbergera and its hybrids. A 160 page soft-cover published in 1995, Christmas Cacti is packed with 120 color photos. The majority of these images are flower close-ups which aid in identification of the various hybrids, but there are also several helpful line-drawings as well as a few habitat/historical pictures. The text includes a background on the Christmas (or Holiday) Cacti and species descriptions, cultivation information, and lists of varieties/hybrids. McMillan and Horobin's Christmas Cacti is a valuable resource for those interested in these popular epiphytic cacti.
List Price: $40.00
Your Low Price: $29.95
In Stock Now!
Specific Details
Hardcover: 160 pages
Illustrated
Title: Christmas Cacti (hardcover)
Author: McMillan, A.J.S. & Horobin, J.F.
Publisher: dh Books
Date: 1995
ISBN 10: 0951723472
ISBN 13: 9780951723470
Language: English
Weight: 1 lbs 6.0 ounces