Shopping Cart: Empty
->
Other Titles
The Kew Plant Glossary an illustrated dictionary of plant terms

Author: Henk Beentje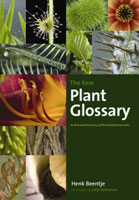 This new and entirely up-to-date plant glossary includes all descriptive terms used in floras, plant field guides and monographs. It is an essential companion for anyone working with plant descriptions, plant identification keys, floras, monographs and field guides. 4,100 botanical terms are described with accompanying illustrations.
List Price: $30.00
Your Low Price: $26.50
This item is on order with publisher
new orders will ship upon arrival.
Specific Details
Softcover: 220 pages
Illustrated
Title: The Kew Plant Glossary
Author: Henk Beentje
Publisher: Royal Botanic Gardens Kew
Date: 2010
ISBN 10: 1842464221
ISBN 13: 9781842464229
Language: English
Weight: 0 lbs 11.4 ounces