Shopping Cart: Empty
->
Cactus & Succulents
->
Cactus Only
Epithelantha 2011

Author: Davide Donati & Carlo Zanovello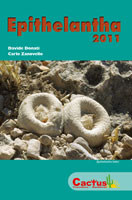 Davide Donati and Carlo Zanovello are among the most prominent Italian scholars. In this monograph dedicated to the beautiful cactus genus Epithelantha, the two authors make a complete revision with a detailed description of all known species and one new species: Epithelantha cryptica.

An introduction to the genus as a whole is followed by a detailed and heavily illustrated account of each taxon within Epithelantha and ends with a chapter on cultivation.

This book includes 117 photos with 13 distribution maps and 12 charts.
List Price: $34.95
Your Low Price: $28.95
In Stock Now!
Specific Details
Softcover: 64 pages
Illustrated
Title: Epithelantha 2011
Author: Davide Donati & Carlo Zanovello
Publisher: The Cactus Trentino Sudtirol Society
Date: 2011
ISBN 10:
ISBN 13:
Language: English
Weight: 0 lbs 6.5 ounces