Shopping Cart: Empty
->
Palms & Cycads
The Palms and Cycads of Thailand

Author: Donald R. Hodel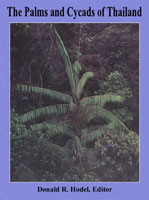 With 190 pages and 385 color photographs, the The Palms and Cycads of Thailand guides the reader through the beauty and amazing diversity of 160 species of palms and 10 species of cycads native to the former Kingdom of Siam. Hard-bound and with a color dust jacket, the book is written in a popular user-friendly style and format, making the information accessible to all readers, no matter their level of interest or expertise. Sections on distribution, ecology, and keys to all genera and species are included.
List Price: $59.95
Your Low Price: $59.95
This item is on order with publisher
new orders will ship upon arrival.
Specific Details
Hardcover: 190 pages
Illustrated
Title: The Palms and Cycads of Thailand
Author: Donald R. Hodel
Publisher: Allen Press
Date: 1998
ISBN 10: 0935868984
ISBN 13: 9780935868982
Language: English
Weight: 2 lbs 4.6 ounces