Shopping Cart: Empty
->
Palms & Cycads
Betrock's Essential Guide to Palms

Author: David Leaser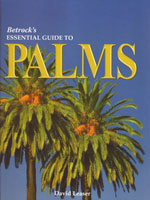 The ultimate guide for selecting, growing, and maintaining palms. By David Leaser, author of several books and journal articles about palms including Palm Trees: A story in Photographs and Growing Palms in Hawaii. Includes an At-A-Glance PALM FINDER with characteristics of 279 Palm Species - Height, Spread, Light Requirements, Water Needs, Trunk Type, Minimum Temperatures, Leaf Type, Growth Rate, Salinity Tolerance and Key Traits. More than 300 color photographs. Tips on everything from propagating palms to preventing pests and diseases. Seasonal checklist for maintaining palms.
List Price: $29.95
Your Low Price: $25.95
This item is on order with publisher
new orders will ship upon arrival.
Specific Details
Hardcover: 150 pages
Illustrated
Title: Betrock's Essential Guide to Palms
Author: David Leaser
Publisher: Betrock Information System
Date: 2007
ISBN 10: 0962976199
ISBN 13: 9780962976193
Language: English
Weight: 1 lbs 14.0 ounces