Shopping Cart: Empty
->
Trees & Shrubs
Australia's Remarkable Trees

Author: Richard Allen, Kimbal Baker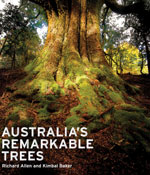 Richly illustrated with remarkable photographs, this reference explores 50 of Australia's oldest, largest, and most unusual trees. From Elephantine Boabs in the Kimberley region and Ironbarks in Queensland to Strangler Figs in the northern rainforests and Shining Gums on Australia's icy mountains, this chronicle celebrates trees and encourages the protection and preservation of the world's oldest and most magnificent living things. Teeming with fascinating facts and histories, this guide argues that these remarkable trees are national treasures and should be treated as such.
List Price: $47.95
Your Low Price: $45.00
This item is on order with publisher
new orders will ship upon arrival.
This title is currently inactive.
Specific Details
Hardcover: 272 pages
Illustrated
Title: Australia's Remarkable Trees
Author: Richard Allen, Kimbal Baker
Publisher: Melbourne University Publishing
Date: 2010
ISBN 10: 0522856691
ISBN 13: 9780522856699
Language: English
Weight: 3 lbs 3.9 ounces