Shopping Cart: Empty
->
Cactus & Succulents
->
Other Succulents
List of Southern African Succulent Plants

Author: Gideon F Smith et. al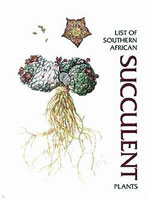 An enormous amount of research has gone into the compilation of this plant list and it is an indispensable reference to succulent enthusiast's in that one can readily find the correct spelling and latest author of the species. This is a complete list of Southern African Succulent Plant names, the first of its kind.

The list has been jointly produced by the National Botanical Institute and the Succulent Society of South Africa and contains the latest published names for 4674 taxa from 350 genera and 58 plant families. For each family where succulence occurs, an introduction and a bibliography is given, a distribution map for the family in Southern Africa is supplied, and the list of taxa is given alphabetically for the relevant genera. At least one line drawing per family by a well-known botanical artist is included.
List Price: $35.00
Your Low Price: $19.95
In Stock Now!
Specific Details
Hardcover: 176 pages
Illustrated
Title: List of Southern African Succulent Plants
Author: Gideon F Smith et. al
Publisher: Umdaus Press
Date: 1997
ISBN 10: 1919766057
ISBN 13: 9781919766058
Language: English
Weight: 1 lbs 7.2 ounces