Shopping Cart: Empty
->
Carnivorous Plants
Field Guide to the Pitcher Plants of Sulawesi

Author: Stewart McPherson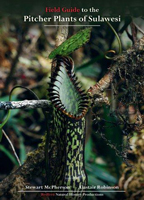 Field Guide to the Pitcher Plants of Sulawesi is in an identical format to Field Guide to the Pitcher Plants of the Philippines. It is 250 m x 150 mm, and consists of a glossy cover and 48 pages complete with 62 spectacular photographs that examine all Nepenthes from Sulawesi. The imagery in this book is particularly beautiful, with most photographs never before published.

Highlights include:

1. coverage and unique images of the recently discovered Nepenthes nigra and N. undulatifolia.
2. the first ever listing of Sulawesian Nepenthes hybrids and the first photos of three hybrid plants.
3. Images of the newly discovered population of Nepenthes pitopangii (with spectacularly different colouration to the type population).
4. Beautiful imagery of many rare and little-known Nepenthes, including N. hamata, N. eymae and a unique, large variant of N. mirabilis.
List Price: $24.99
Your Low Price: $19.95
In Stock Now!
Specific Details
Softcover: 48 pages
Illustrated
Title: Field Guide to the Pitcher Plants of Sulawesi
Author: Stewart McPherson
Publisher: Redfern Natural History Productions
Date: 2012
ISBN 10: 1908787015
ISBN 13: 9781908787019
Language: English
Weight: 0 lbs 6.1 ounces