Shopping Cart: Empty
->
Cactus & Succulents
->
Other Succulents
Australian Ant Plants Amazing Relationships with Insects

Author: Attila Kapitany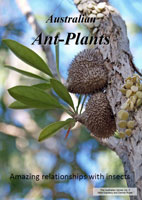 Australian (epiphytic) ant-plants are unusual and fascinating because they have developed close relationships with ants that primarily involve providing them with readymade homes within hollow stems or leaves. A range of very different and bizarre plant species form this informal grouping, defined further by their sharing of a mutually beneficial relationship with ants. There is also a fascinating relationship with butterflies covered. Some of these plants are very rare.
List Price: $18.00
Your Low Price: $17.95
This item is on order with publisher
new orders will ship upon arrival.
Specific Details
Softcover: 20 pages
Illustrated
Title: Australian Ant Plants
Author: Attila Kapitany
Publisher: Australian Succulents
Date: 2012
ISBN 10:
ISBN 13:
Language: English
Weight: 0 lbs 3.4 ounces