Shopping Cart: Empty
->
Cactus & Succulents
->
Other Succulents
Pachyforms II Bonsai Succulents

Author: Philippe de Vosjoli and Rudy Lime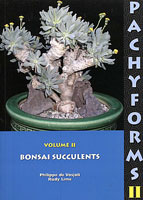 Part two of the caudiciform and pachycaul plant books. This book includes over 300 photos of incredible plants and includes cultivation informaion and advice for making "bonsai" from succulents. A "must-have" for the caudiciform grower -especially anyone who attends plant shows.

Limited stock remains before this title is sold out!
List Price: $59.95
Your Low Price: $59.95
In Stock Now!
Specific Details
Softcover: 387 pages
Illustrated
Title: Pachyforms II
Author: Philippe de Vosjoli and Rudy Lime
Publisher: Advanced Visions Inc.
Date: 2007
ISBN 10: 0974297135
ISBN 13: 9780974297132
Language: English
Weight: 2 lbs 9.7 ounces