Shopping Cart: Empty
->
Cactus & Succulents
->
Cactus Only
Copiapoa

Author: Graham Charles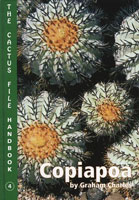 This 80 page soft-cover 1998 publication by Graham Charles is number 4 in "The Cactus File Handbook" series. Inside you will find the well thought out layout typical of the other books in this series. That includes an overall description of the genera with historical, distribution, and cultivation information followed by the extensively described species and subspecies in alphabetical order. As is typical of this series, there are many photos in both habitat and cultivation; typically multiple shots for each specimen. There are 100 photos in all along with distribution range maps for each species and variety.

This title is almost sold out permanently. Only a handful of copies remain.
List Price: $45.00
Your Low Price: $45.00
This item is on order with publisher
new orders will ship upon arrival.
Specific Details
Softcover: 80 pages
Illustrated
Title: Copiapoa
Author: Graham Charles
Publisher: Drogher Press
Date: 1998
ISBN 10: 0952830264
ISBN 13:
Language: English
Weight: 0 lbs 9.8 ounces