Shopping Cart: Empty
->
Cactus & Succulents
->
Cactus Only
Pilosocereus (Cactaceae) The Genus in Brazil - Softcover

Author: Daniela C. Zappi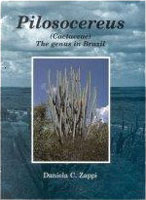 Daniela Zappi wrote her doctoral thesis on the Pilosocereus of Brazil and this book is a translation of that work. The focus of the genus in Brazil doesn't detract from its value as a study of the entire genus. Ample informatin is given covering the history of discovery and nomenclature of this group of cacti, which was only starting to be understood at the time this book was written in 1988. Daniela made many trips to the field, studied preserved materials, and living secimens of field-collected plants. Being a thesis, this book contains a good deal of technical information, such as charts, graphs, and microscopic photos of seeds, but it is also quite useful to the casual cactus grower who would like a better understanding of the genus. Aside from information on the genus in general, detailed description are given for the various species. Many line-art illustrations are included, mostly drawn by Zappi herself and a section in the middle of the book contains color photos of the various species. Distribution maps are also included. The book is 160 pages, published in 1994.
List Price: $34.95
Your Low Price: $29.95
This book is currently out of stock and may not be available again.
Specific Details
Softcover: 160 pages
Illustrated
Title: Pilosocereus
Author: Daniela C. Zappi
Publisher: dh Books
Date: 1994
ISBN 10: 0951723448
ISBN 13:
Language: English
Weight: 1 lbs 2.1 ounces