Shopping Cart: Empty
->
Orchids
Discovering New World Orchids

Author: Steve Manning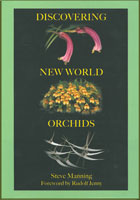 This book contains many well-documented tales – of the one-armed Roezl trapped on an active volcano; of the fashion-conscious Ruiz taking a silver chamber pot on his expedition to Peru; of the English collector murdered by his native wife; of a modest Lincolnshire lass paired with a bombastic and treacherous German taxonomist; stories of the Orchid Nurseries of Linden, Loddiges and Low; of Bull, Williams, Sander, Veitch and Booth; a history of Masdevallias; the stories behind the names of the orchids we grow and love, and so much more about orchids, orchids, orchids...

Neither a cultural guide nor an encyclopedia, this book is full of documented facts. With over 1,000 coloured illustrations, some never previously published, it is a joy to the eye. A wealth of biographical details of both plants and people, it will captivate both historians and orchid enthusiasts.
List Price: $115.00
Your Low Price: $39.95
In Stock Now!
Specific Details
Hardcover: 669 pages
Illustrated
Title: Discovering New World Orchids
Author: Steve Manning
Publisher: Missouri Botanical Garden Press
Date: 2010
ISBN 10: 0956559409
ISBN 13: 9780956559401
Language: English
Weight: 5 lbs 7.0 ounces