Shopping Cart: Empty
->
Cactus & Succulents
->
Other Succulents
Aeonium In Habitat And Culture

Author: Rudolf Schulz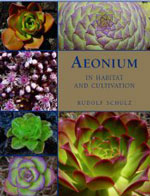 Aeonium in Habitat and Cultivation covers all the aeonium species and hybrids which are commercially available, and the many and varied aspects of growing them whether from cuttings or seeds.

A comprehensive book with with hundreds of colour photos of aeoniums in habitat, mostly on the Canary Islands. Great pictures, some quite spectacular. Exceptional value.
List Price: $45.99
Your Low Price: $39.95
In Stock Now!
Specific Details
Hardcover: 215 pages
Illustrated
Title: Aeonium
Author: Rudolf Schulz
Publisher: Schulz Publishing
Date: 2007
ISBN 10:
ISBN 13: 9780958516792
Language: English
Weight: 2 lbs 1.7 ounces