Shopping Cart: Empty
->
Cactus & Succulents
->
Cactus Only
Copiapoa In Their Environment

Author: Rudolf Schulz, Attila Kapitany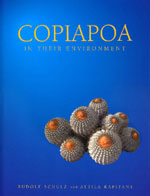 Little information on the environment in which cacti naturally grow has ever been available to collectors and growers of cacti. This book, while mainly written for more experienced collectors of cacti who wish to know more about the much prized genus Copiapoa, should also appeal to beginning collectors of cacti and lovers of nature who wish to understand cacti in their dry, often desert, environments.

This 176 page hardcover book contains 231 superb colour photographs of habitat plants and their environment. Cultivation, conservation and man\'s influence on the environment are covered in this section.

The second part of the book contains specific information obtained from fieldwork undertaken by the authors during 1994 and 1996. Specific populations between El Cobre and Chañaral are investigated for density, health, variability, soils, fruiting, seed production, and more.
List Price: $84.95
Your Low Price: $79.95
This item is on order with publisher
new orders will ship upon arrival.
Specific Details
Hardcover: 176 pages
Illustrated
Title: Copiapoa
Author: Rudolf Schulz, Attila Kapitany
Publisher: Schulz Publishing
Date: 1994
ISBN 10: 0646287028
ISBN 13: 9780646287027
Language: English
Weight: 2 lbs 2.9 ounces