Shopping Cart: Empty
->
Carnivorous Plants
Cultivating Carnivorous Plants

Author: Natch Greyes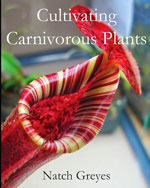 Cultivating Carnivorous Plants was designed to be the ultimate guide to growing carnivorous plants. The first chapters cover the basics from soil preparation and building bog gardens to feeding and dealing with pests. The following chapters provide detailed information on every genus of commonly cultivated carnivorous plant. These chapters are peppered with advice on general cultivation practices and facts about native environments. Informative tables providing helpful data on individual species follow many chapters.

New copies signed by the author.
List Price: $34.99
Your Low Price: $34.95
This item is on order with publisher
new orders will ship upon arrival.
This title is currently inactive.
Specific Details
Softcover: 228 pages
Illustrated
Title: Cultivating Carnivorous Plants
Author: Natch Greyes
Publisher: CreateSpace Independent Publishing
Date: 2015
ISBN 10: 1505891604
ISBN 13: 9781505891607
Language: English
Weight: 1 lbs 3.6 ounces