Shopping Cart: Empty
->
Carnivorous Plants
Carnivorous Plants of Britain and Ireland

Author: Tim Bailey, Stewart McPherson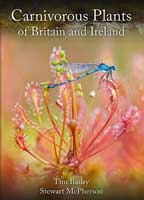 This fully illustrated guide to the carnivorous plants of Britain and Ireland features over 200 images and documents all recognised native species and their hybrids, as well as the non-native species that have become naturalised to form self-sustaining populations on these shores.

An overview of each group of native carnivorous plant is provided, with line drawings and selected photographs to document their particular characteristics. Each species or hybrid therein is subsequently addressed within its own entry that includes a variety of illustrations of the plant, a detailed description, range map, habitat photos, and, where relevant, notes of interest about the plant within the context of Britain and Ireland. The history of carnivorous plants, a story that involves none other than Charles Darwin himself, as well as their evolution, is discussed in detail. Finally, some of the issues facing carnivorous plants on these shores is discussed, followed by a selection listing a broad selection of resources, including carnivorous plant nurseries and horticultural groups, that are bound to be of interest to those who wish to see these plants in the field, or cultivate them in their own homes.
List Price: $24.99
Your Low Price: $19.95
This item is on order with publisher
new orders will ship upon arrival.
This title is currently inactive.
Specific Details
Softcover: 200 pages
Illustrated
Title: Carnivorous Plants of Britain and Ireland
Author: Tim Bailey, Stewart McPherson
Publisher: Redfern Natural History Productions
Date: 2016
ISBN 10:
ISBN 13: 9781908787231
Language: English
Weight: 1 lbs 0.4 ounces