Shopping Cart: Empty
->
Cactus & Succulents
->
Cactus Only
Knowing, understanding, and growing Turbinicarpus - Rapicactus a trip across the Mexican States of Coahuila, Guanajuato, Hidalgo, Nuevo Leon, Queretaro, San Luis Potos???, Tamaulipas, Zacatecas among old taxa and new discoveries

Author: Davide Donati, Carlo Zanovello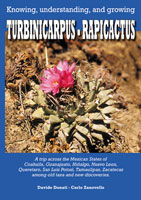 Conceived at the beginnig of 2003, this book is the result of the researches made by Davide Donati and Carlo Zanovello, who took advantage of the collaboration of some of the most important European and Mexican Turbinicarpus experts.

With chapters about:

Introduction and taxonomical history.
Ecology and hypothesis on their origins and their future.
Systematic and taxonomy.
Identification keys of the 2 genera.
Files on every taxon known until now with specific practises of cultivation and general distribution maps.
General practises of cultivation (soil, watering, exposition, grafts, etc.), useful also for all succulent plants which like the dry limestone soils, with an extended part on the prevention and the treatment of the pathology, with advices adapted at most of succulent plants.
Presentation of new taxa
List Price: $99.99
Your Low Price: $69.95
In Stock Now!
Specific Details
Hardcover: 254 pages
Illustrated
Title: Knowing, understanding, and growing Turbinicarpus - Rapicactus
Author: Davide Donati, Carlo Zanovello
Publisher: Cactus Trentino SudTirol
Date: 2004
ISBN 10:
ISBN 13:
Language: English
Weight: 3 lbs 0.4 ounces