Shopping Cart: Empty
->
Cactus & Succulents
->
Other Succulents
Wild Lithops

Author: Harald Jainta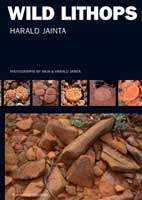 This unique monograph of the genus Lithops features all 91 currently accepted species from a field research perspective and provides a valuable guide to lithops in their natural surroundings. 2000 color habitat photographs and 13 typographic maps illustrate lithops relationships, diversity and distribution in southern Africa and a new simplified taxonomy is suggested. 60 portraits and related biographic information honor the dedicated work of past and present Lithoparians. A thorough review of published botanic and scientific data on Lithops plus a comprehensive annotated bibliography including over 700 references make this book a benchmark for plant lovers, succulent breeders and specialists of the unparalleled Living Stones.

2000 color and 60 black and white photos, 13 maps, 14 tables, and 10 diagrams.
List Price: $102.13
Your Low Price: $99.95
In Stock Now!
Specific Details
Hardcover: 488 pages
Illustrated
Title: Wild Lithops
Author: Harald Jainta
Publisher: Klaus Hess
Date: 2017
ISBN 10:
ISBN 13: 9783933117939
Language: English
Weight: 4 lbs 14.4 ounces