Shopping Cart: Empty
->
Cactus & Succulents
->
Cacti and Succulents
Cacti and Succulents in Habitat

Author: Ken Preston-Mafham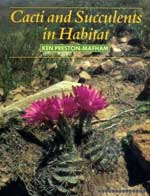 Illustrating over 170 species of cacti and succulents in stunning color photographs, this book is an ideal reference for the collector and gardener, showing how popular varieties grow in their natural habitat. Author and photographer Ken Preston-Mafham is a widely respected photographer and chronicler of the natural world. He traveled through Bolivia, Arizona, New Mexico, Utah, Colorado, California, Namibia, and South Africa to complete this book. He is co-author, with his brother Rod, of Cacti: The Illustrated Dictionary, now out of print.
List Price: $19.95
Your Low Price: $8.95
This item is on order with publisher
new orders will ship upon arrival.
Specific Details
Softcover: 160 pages
Illustrated
Title: Cacti and Succulents in Habitat
Author: Ken Preston-Mafham
Publisher: Cassell Publishing
Date: 1994
ISBN 10: 0304345512
ISBN 13: 9780304345519
Language: English
Weight: 1 lbs 3.0 ounces