Shopping Cart: Empty
->
Cactus & Succulents
->
Other Succulents
Succulents Care and Health

Author: Rudolf Schulz, Attila Kapitany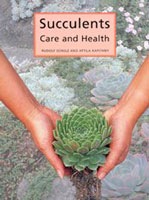 Buying a succulent plant is the easy part. Now what? Where do I grow it? How do I take care of it? What do I need to do to keep it healthy? These questions and more are answered in this easy to use book. Divided into three chapters 'Basic concepts', 'Care' and 'Health', this book will provide a handy reference to all your questions about how succulents grow and thrive. Keeping your garden in order and your plants looking healthy is easy with this book. Also covered are repotting, feeding, seasonal changes, pests & diseases, choosing the container, handling spiny plants, natural remedies and much more.
List Price: $23.95
Your Low Price: $19.95
This item is on order with publisher
new orders will ship upon arrival.
This title is currently inactive.
Specific Details
Softcover: 104 pages
Illustrated
Title: Succulents Care and Health
Author: Rudolf Schulz, Attila Kapitany
Publisher: Schulz Publishing
Date: 20
ISBN 10: 0958516758
ISBN 13:
Language: English
Weight: 0 lbs 12.5 ounces