Shopping Cart: Empty
->
Cactus & Succulents
->
Other Succulents
More Succulents for the Garden

Author: Rudolf Schulz, Attila Kapitany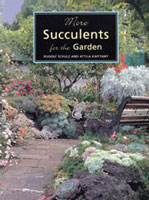 More Succulents for the Garden is the second in a series of books which explains how these fascinating plants can be used in the garden. Our first book, Succulents for the Garden (published in December 2000) focused on where and why succulents are used in garden situations as well as listing the most commonly used varieties. This book expands on the first, but also introducing a range of new varieties which are now becoming available. It also covers some of the lesser understood old favourites, with frilly, colourful echeverias being well represented.
List Price: $23.95
Your Low Price: $19.95
This item is on order with publisher
new orders will ship upon arrival.
This title is currently inactive.
Specific Details
Softcover: 96 pages
Illustrated
Title: More Succulents for the Garden
Author: Rudolf Schulz, Attila Kapitany
Publisher: Schulz Publishing
Date: 2007
ISBN 10: 0958516731
ISBN 13:
Language: English
Weight: 0 lbs 11.6 ounces