Shopping Cart: Empty
->
Palms & Cycads
Palms of the Dominican Republic Volume 2

Author: Juergen Hoppe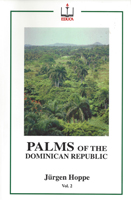 The book "Palms of the Dominican Republic" by Juergen Hoppe, a German ecologist and resident of this country for 14 years, is a contribution by EDUCA to impart knowledge of the Dominican flora. The revenues from the sale of this book help finance EDUCA's programs, whose main purpose is to improve the quality of elementary education in the Dominican Republic.

Each species of palm is illustrated with several photos and accompanied by a description.
List Price: $25.00
Your Low Price: $19.95
In Stock Now!
Specific Details
Softcover: 106 pages
Illustrated
Title: Palms of the Dominican Republic
Author: Juergen Hoppe
Publisher: EDUCA
Date: 1998
ISBN 10: 8492314141
ISBN 13:
Language: English
Weight: 0 lbs 11.1 ounces