Shopping Cart: Empty
->
Palms & Cycads
Chamaedorea Palms The Species and Their Cultivation

Author: Donald R. Hodel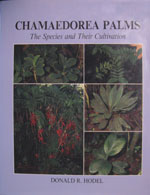 In this readable and accessible account, Donald R. Hodel shares his enthusiasm for this remarkable and useful group of palms. He has traveled extensively in Mexico and Central America to photograph the species in habitat and gather information about them. Donald also visited areas where they are cultivated and produced commercially, such as California, Florida, and Hawaii. In Los Angeles, he established a research collection of over 60 species, many of them new to science, from which he was able to collect and photograph plants, flowers, and fruits. Donald wrote, designed, and illustrated the book in such a manner that it is usable and indispensable to all, whatever their level of interest or expertise.

Chamaedorea Palms describes each of the specie in detail and illustrates the dazzling diversity in the genus with over 550 color photographs. Chapters on culture, conservation, distribution, and ecology, economic uses, history, hybrids, morphology, and an introduction provide essential background information.
List Price: $69.95
Your Low Price: $68.95
This item is on order with publisher
new orders will ship upon arrival.
Specific Details
Hardcover: 338 pages
Illustrated
Title: Chamaedorea Palms
Author: Donald R. Hodel
Publisher: Allen Press, Inc.
Date: 1992
ISBN 10: 9992152125
ISBN 13: 9789992152126
Language: English
Weight: 3 lbs 3.5 ounces