->
Garden/How To
Landscaping with Native Plants of the Southwest

Author: George Oxford Miller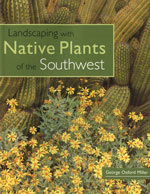 As the world heats up and we become more and more conscious of our place in the natural scheme, the appeal of the native plants of the Southwest becomes ever more compelling for gardeners. In addition to providing year-round beauty with relatively little maintenance, landscaping with native plants contributes to the repair of the natural ecosystem and brings us closer to our environment—and the array of native plant material available to the Southwestern gardener is diverse and spectacular, providing seemingly endless opportunities for creative and attractive landscapes.

In Landscaping with Native Plants of the Southwest, George Oxford Miller provides the definitive guide to choosing the best of the best among the native plants of Arizona and New Mexico. Covering wildflowers, shrubs, trees, vines, groundcovers, and cacti, this comprehensive, richly illustrated book selects the species whose ornamental qualities, growth habit, adaptability, maintenance needs, and beauty add up to the highest landscape value. The illustrations, maps, and charts provide guidelines for species selection and planting, ongoing maintenance, landscape design, and water and energy conservation. In-depth plant profiles describe the habitat requirements for more than 350 native plant species, subspecies, and varieties, with lush photographs illustrating how each plant looks and responds to landscape conditions.

As the interest in native-plant landscaping and xeriscaping continues to grow, this book will find a place on the shelf of every gardener and landscaper in the region—or of anybody interested in recreating the beauty of the Southwest in a hot, dry corner of the yard.
List Price: $24.95
Your Low Price: $19.95
This item is on order with publisher
new orders will ship upon arrival.
This title is currently inactive.
Specific Details
Softcover: 192 pages
Illustrated
Title: Landscaping with Native Plants of the Southwest
Author: George Oxford Miller
Publisher: Voyageur Press
Date: 2007
ISBN 10: 0760329680
ISBN 13: 9780760329689
Language: English
Weight: 1 lbs 8.6 ounces