Shopping Cart: Empty
->
Orchids
Moth Orchids

Author: Steven A. Frowine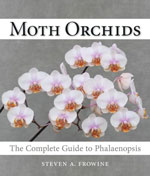 With their refined beauty and elegant flower form, moth orchids (members of the genus Phalaenopsis are the basic black of the orchid world. In fact, moth orchids are the most popular orchids in the world, accounting for a staggering 75 percent of all orchid plant sales. More than merely beautiful, they are also among the easiest orchids to grow, whether in greenhouses, on windowsills, or under artificial lights.

Professional horticulturalist and orchid expert Steven A. Frowine, author of Miniature Orchids, focuses on the new orchid stars while also providing a detailed look at the classic hybrids and species. Readers will be enticed by the book's lavish color photographs and gratified by the wealth of practical advice on selecting and buying moth orchids. Most importantly, Frowine shares his secrets on how these glorious plants can be grown to perfection, with recommendations about light levels, potting media, watering, and feeding.
List Price: $49.95
Your Low Price: $49.95
This item is on order with publisher
new orders will ship upon arrival.
This title is currently inactive.
Specific Details
Hardcover: 204 pages
Illustrated
Title: Moth Orchids
Author: Steven A. Frowine
Publisher: Timber Press
Date: 2008
ISBN 10: 0881928704
ISBN 13: 9780881928709
Language: English
Weight: 2 lbs 3.0 ounces