Shopping Cart: Empty
->
Cactus & Succulents
->
Other Succulents
Haworthia for the Collector

Author: Rudolf Schulz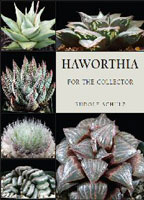 There are numerous books published on Haworthia. However most of these focus on the plants in habitat or on taxonomic issues. This book focuses on the needs of the collector: identification, care, health and propagation.

Half of Haworthia for the Collector covers the species and many of their first generation hybrids in alphabetical order. The second half deals with aspects of cultivation, ranging from pot culture, general care, health and propagation as well as chapters on variegates and the latest hybrids.

Haworthia for the Collector is written in an easy style with abundant photographs, it will appeal to the succulent collector, the botanist, the armchair traveller and all those interested in knowing more about this variable and beautiful genus of plants.
List Price: $55.00
Your Low Price: $55.00
This item is on order with publisher
new orders will ship upon arrival.
This title is currently inactive.
Specific Details
Hardcover: 240 pages
Illustrated
Title: Haworthia for the Collector
Author: Rudolf Schulz
Publisher: Schulz Publishing
Date: 2009
ISBN 10:
ISBN 13: 9780646516615
Language: English
Weight: 2 lbs 11.4 ounces