Shopping Cart: Empty
->
Fungus
Collins Mushroom Miscellany

Author: Patrick Harding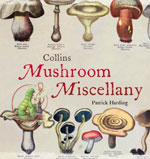 Mushroom collecting is becoming increasingly popular, and while a comprehensive identification guide is essential, the folklore, facts and fables, recipes and stories that have accumulated since ancient times create part of the charm of these strange organisms. Oddly, these facts have never been compiled in one book. Collins Mushroom Miscellany is a compilation of all of the fascinating biological facts, the folklore, the uses, and the history. Additionally, the book features the most widely used recipes for cooking mushrooms from around the world. Mushroom Miscellany is a veritable treasure trove of fascinating facts -- a perfect introduction to the third kingdom of fungi and an essential companion to every mushroom field guide.
List Price: $24.35
Your Low Price: $18.95
This item is on order with publisher
new orders will ship upon arrival.
Specific Details
Hardcover: 208 pages
Illustrated
Title: Collins Mushroom Miscellany
Author: Patrick Harding
Publisher: Collins
Date: 2008
ISBN 10: 0007284640
ISBN 13: 9780007284641
Language: English
Weight: 1 lbs 10.8 ounces