Shopping Cart: Empty
->
Other Titles
Proteas in Hawaii

Author: Angela Kay Kepler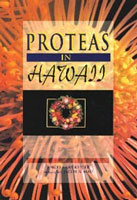 Over 200 photographs on this amazing flowering plant family. An authoritative text provides a wealth of information on correct English and scientific names, including pronunciation, buying and caring for the plants, flower arrangements, general and historic information. The first book on proteas ever published in the United States.
List Price: $9.95
Your Low Price: $9.50
This item is on order with publisher
new orders will ship upon arrival.
This title is currently inactive.
Specific Details
Softcover: 80 pages
Illustrated
Title: Proteas in Hawaii
Author: Angela Kay Kepler
Publisher: Mutual Publishing
Date: 1996
ISBN 10: 0935180664
ISBN 13: 9780935180664
Language: English
Weight: 0 lbs 6.6 ounces