Shopping Cart: Empty
->
Palms & Cycads
The Palms of New Caledonia

Author: Donald R. Hodel, Jean-Christophe Pintaud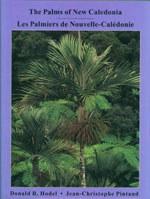 The Palms of New Caledonia , written in English and French, takes the reader on an exciting pictorial adventure of the beautiful flora of this French territory located in the southwest Pacific. The New Caledonian landscape is home to 37 different species of palms, all of which are found nowhere else in the world. The authors have traveled extensively in New Caledonia, researching and photographing its palms for several years. All 37 species are presented in a style and format that make the information accessible by all. Indeed, The Palms of New Caledonia is the most comprehensive and only fully illustrated account of the island's palms, and will serve as the authoritative reference on the subject for years to come.
List Price: $49.95
Your Low Price: $49.95
This item is on order with publisher
new orders will ship upon arrival.
This title is currently inactive.
Specific Details
Hardcover: 119 pages
Illustrated
Title: The Palms of New Caledonia
Author: Donald R. Hodel, Jean-Christophe Pintaud
Publisher: International Palm Society
Date: 1998
ISBN 10: 0935868992
ISBN 13: 9780935868999
Language: English
Weight: 1 lbs 13.3 ounces