Shopping Cart: Empty
->
Orchids
CITES and Slipper Orchids

Author: H. Noel McGough, David L. Roberts, Chris Brodie, Jenny Kowalczyk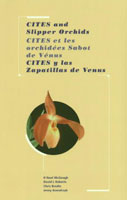 The third in the series of CITES User's Guides covers the genera Cypripedium, Paphiopedilum and Phragmipedium. Highly sought-after in trade, these orchids are strictly regulated by CITES. This is the first book that outlines in a user-friendly fashion how the CITES controls apply to slipper orchids. It includes a fully illustrated PowerPoint training presentation, with speaker notes, on CD-ROM. The text is in English, French and Spanish.

CD-ROM in rear pocket.
List Price: $30.00
Your Low Price: $28.95
This item is on order with publisher
new orders will ship upon arrival.
Specific Details
Softcover: 198 pages
Title: CITES and Slipper Orchids
Author: H. Noel McGough, David L. Roberts, Chris Brodie, Jenny Kowalczyk
Publisher: Royal Botanic Gardens Kew
Date: 2006
ISBN 10: 1842461281
ISBN 13: 9781842461280
Language: English
Weight: 1 lbs 2.0 ounces