Shopping Cart: Empty
->
Trees & Shrubs
Magnolias and their Allies

Author: David Hunt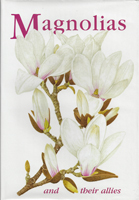 The contributors to this volume include many leading specialists on the popular and ornamental genus Magnolia and its allies in the family Magnoliaceae. Most of the chapters were originally presented as papers at an international symposium designed to review current scientific thinking on the history, classification and conservation of the group and to provide a survey of the species and cultivars in today's horticulture. The symposium was sponsored by the Dendrology Charitable Company Ltd on behalf of the International Dendrology Society, and the Magnolia Society. It was held at Royal holloway, Egham, England, in April 1996.

The centerpiece of the volume is a systematic account by Dr. Stephen Spongberg of the the Magnoliaceae hardy in cooler temperate regions, updating an important earlier treatment by the same author. This is preceded by a trio of papers reviewing modern scientific knowledge of the family and a brief survey of the tropical members. Further contributions discuss the indigenous species of China, Japan, and North America.

Articles in the latter part of the book are concerned with the cultivation and propagation of magnolias and their allies in gardens and arboreta around the world. The volume as a whole is amply illustrated in color.
List Price: $50.00
Your Low Price: $39.95
This item is on order with publisher
new orders will ship upon arrival.
Specific Details
Hardcover: 304 pages
Illustrated
Title: Magnolias and their Allies
Author: David Hunt
Publisher: dh Books
Date: 1998
ISBN 10: 09517243480
ISBN 13: 9780951723487
Language: English
Weight: 2 lbs 0.7 ounces