Shopping Cart: Empty
->
Cactus & Succulents
->
Other Succulents
The Genus Fouquieria

Author: Robert Scott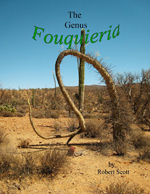 This book is the first and only book dedicated solely to the genus Fouquieria (aka Ocotillo). It contains an introduction to the genus followed by a species by species account which includes F. columnaris, which some consider to belong in its own genus: Idria.

Each species account includes a description and a chart with habitat and cultivation details as well as a distribution map. Most species feature multiple color photos.

Following the species accounts is a very handy section for comparative identification by flowers, leaves/stems, and overall form. In these three sections, photos of all species are presented in a way that all can be seen without turning the page.

Finally a section detailing the subspecies of F. splendens concludes the book.

The color photos are not the highest quality reproductions, but certainly adequate for the work.
List Price: $19.95
Your Low Price: $19.95
In Stock Now!
Specific Details
Softcover: 60 pages
Illustrated
Title: The Genus Fouquieria
Author: Robert Scott
Publisher: Author
Date: 2013
ISBN 10:
ISBN 13: 9780615809380
Language: English
Weight: 0 lbs 8.0 ounces