Shopping Cart: Empty
->
Cactus & Succulents
->
Cactus Only
Echinocereus

Author: Duke Benadom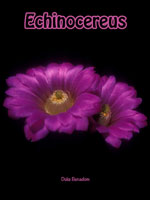 The intent of Echinocereus is to provide readers with more than just a glimpse of what occurs in nature of this beautiful and fascinating assemblage of plants. The inclusion of more than 850 photos is intended to provide an expanded knowledge of the realm of variation within the genus.

The book contains some of the authors notes about the genus and cultivation, an alphabetical listing of species and varieties, followed by an index of taxa. The species listing includes a botanical description of each with habitat information and various notes by the author. Nearly the entire book consists of photographs, many full page. The photos are primarily that of flowers set on a black background like the cover of the book. The number of photos varies widely from species to species, due to the amount of variation within the species as well as the authors exposure to each. While E. schereri includes two photographs, E. reichenbachii is represented by 57 pages.
List Price: $98.00
Your Low Price: $59.95
In Stock Now!
Specific Details
Hardcover: 500 pages
Illustrated
Title: Echinocereus
Author: Duke Benadom
Publisher: Superb Succulents
Date: 2014
ISBN 10:
ISBN 13: 9780989651431
Language: English
Weight: 5 lbs 12.8 ounces