Shopping Cart: Empty
->
Cactus & Succulents
->
Cacti and Succulents
Under the Spell of Succulents A Sampler of the Diversity of Succulents in Cultivation

Author: Jeff Moore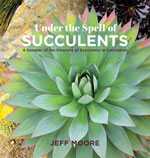 Succulents are some of the most architecturally diverse and colorful plants on earth. This book takes you on a journey into the world of succulents in cultivation, though the eyes of a hobbyist-turned-collector-turned-nursery owner. The major plant groups ar shown in vivid color along with an insight into how enthusiasts engage with their succulent passion.

Chapters include:


Container Gardens
The Collectors
The Growers
Succulent Landscapes
Theme Gardens
Succulent Bonsai
Crests
Variegation
Caudiciforms
Succulent Giants
Vertical Gardens
This book is brilliantly arranged within - making it engaging and accessible to anyone. The 800+ photos are represented in vivid color. Only an encounter with the actual plants could create more interest in the cactus and succulent hobby.
List Price: $29.95
Your Low Price: $29.95
In Stock Now!
Specific Details
Softcover: 244 pages
Illustrated
Title: Under the Spell of Succulents
Author: Jeff Moore
Publisher: Author
Date: 2014
ISBN 10:
ISBN 13: 9780991584604
Language: English
Weight: 2 lbs 10.6 ounces