Shopping Cart: Empty
->
Cactus & Succulents
->
Cactus Only
CITES and Cacti A User's Guide

Author: Maurizio Sajeva, H. Noel McGough, Lucy Garret, Jonas Luthy, et. al.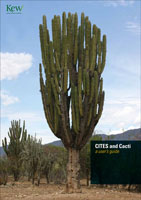 International demand for the uniquely spiky cactus family has brought them far beyond their desert homes. However, because of their appeal and medicinal potential, many species of cacti are endangered. The Convention on International Trade in Endangered Species of Wild Fauna and Flora, or CITES, has set extensive guidelines on how this plant family can be traded.

This guide walks readers through the regulations, detailing the major groups of cacti in trade, their distribution, conservation status, use, and likelihood of illegal trade. Intended for enforcement agencies, commercial nurserymen, traders, collectors and amateur growers, CITES and Cacti includes identification tips and a fully illustrated PowerPoint that can serve as a training presentation, complete with speaker's notes.

Includes CD
List Price: $50.00
Your Low Price: $50.00
This item is on order with publisher
new orders will ship upon arrival.
Specific Details
Softcover: 90 pages
Illustrated
Title: CITES and Cacti
Author: Maurizio Sajeva, H. Noel McGough, Lucy Garret, Jonas Luthy, et. al.
Publisher: Royal Botanic Gardens Kew
Date: 2013
ISBN 10:
ISBN 13: 9781842464854
Language: English
Weight: 0 lbs 15.0 ounces