Shopping Cart: Empty
->
Cactus & Succulents
->
Cacti and Succulents
Field Guide to Cacti and Other Succulents of Arizona Second Edition

Author: Peter Breslin, Rob Romero, Greg Starr, Vonn Watkins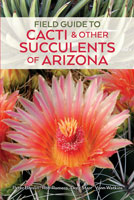 The TCSS Field Guide to Cactus & Succulents of Arizona is the definitive source for plant identification in habitat. A much needed update of the current taxonomy, distribution and status of native Arizona cactus and succulents. All documentation and photography was provided by TCSS members who have traveled all over the state to capture and document these wonderful plants.
List Price: $25.95
Your Low Price: $25.95
This item is on order with publisher
new orders will ship upon arrival.
Specific Details
Softcover: 302 pages
Illustrated
Title: Field Guide to Cacti and Other Succulents of Arizona
Author: Peter Breslin, Rob Romero, Greg Starr, Vonn Watkins
Publisher: Tucson Cactus and Succulent Society
Date: 2015
ISBN 10:
ISBN 13: 9786922655436
Language: English
Weight: 1 lbs 7.6 ounces