Shopping Cart: Empty
->
Cactus & Succulents
->
Cactus Only
Small Opuntias

Author: John Pilbeam, Mike Partridge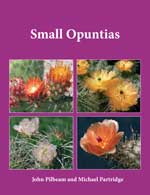 Includes: Austrocylindropuntia, Corynopuntia, Cumulopuntia, Cylindropuntia (a few), Grusonia, Maihuenia, Maihueniopsis, Opuntia (a few), Pterocactus, Punotia, Tephrocactus, Tunilla.

150 pages, 250 photos of species in habitat and cultivation in flower, with cultivation notes, maps, description references.

A feast of color photographs.
List Price: $62.74
Your Low Price: $59.95
In Stock Now!
Specific Details
Hardcover: 150 pages
Illustrated
Title: Small Opuntias
Author: John Pilbeam, Mike Partridge
Publisher: Author
Date: 2016
ISBN 10:
ISBN 13: 9780902099418
Language: English
Weight: 1 lbs 11.4 ounces