Shopping Cart: Empty
->
Cactus & Succulents
->
Other Succulents
Succulents of Southern Africa

Author: Robin Frandsen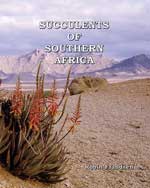 Succulents of Southern Africa, published by Honeyguide Publications, is the most extensive photographic publication of general succulent plants of this region yet produced. Nothing else is available currently to the extent, lavish style and user-friendliness of this work.

It has been made both possible and important due to the efforts of many photographers who, over the years, have accumulated the beautiful identifying photographs and have kindly permitted their use, to make this work remarkable and valuable.

Every species recorded is beautifully illustrated in full colour, with one or more photographs. The illustrations are always on the same spread as their relevant text. This feature makes the book extremely user-friendly. The text includes a description of the plant and its distribution.

There are over 2500 of the best available colour photographs in all, doing justice to this fascinating group of plants.

The introduction includes an extensive section on cultivation. A full-colour map of the sub-region is included as well as a map of the western Cape region into Namibia, the home of most of the succulent species of the region.

16 Plant Families
133 genera
1490 species, subspecies, varieties
~2600 Photograpghs
List Price: $99.95
Your Low Price: $89.95
In Stock Now!
Specific Details
Hardcover: 528 pages
Illustrated
Title: Succulents of Southern Africa
Author: Robin Frandsen
Publisher: Honeyguide Publications
Date: 2017
ISBN 10:
ISBN 13:
Language: English
Weight: 5 lbs 6.0 ounces