Shopping Cart: Empty
->
Cactus & Succulents
->
Other Succulents
The Southern African Plectranthus and the art of turning shade to glade

Author: Ernst van Jaarsveld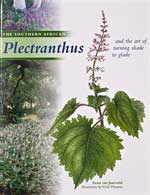 Indigenous, fast-growing, herbaceous perennial plants, Plectranthus have become increasingly popular with gardeners throughout the world as shade garden and indoor plants. They are a gardener's dream plant: being semi-succulent, they are easy to root, tolerate shade and light, neglect, drought and disturbance. They cope in conditions ranging from moist to intensely hot and arid and, being free flowering and aromatic, they provide the garden and home with fragrance year round. They are suitable for hanging baskets and containers and, being fast growing, make excellent ground and wall covers, with the bonus of producing flowers in Autumn in South Africa, when most other flowering species are dormant.

The book is aimed at the gardener, indigenous plant enthusiast and botanist alike. It offers the reader a concise history of the origins of this plant group and deals with the use of Plectranthus as garden and indoor subjects, giving general horticultural advice that includes propagation and pot planting. The group's environmental adaptations, ethnic uses, natural reproduction and distribution in southern Africa are also covered, and a key simplifies the species' identification. Notes on each species explain the derivation of the botanical name and give a short description of the plant, including its flowering time, diagnostic features, habitat and cultivation. Each species is accompanied by a full-color illustration in its different forms.
List Price: $45.00
Your Low Price: $33.95
In Stock Now!
Specific Details
Hardcover: 176 pages
Illustrated
Title: The Southern African Plectranthus
Author: Ernst van Jaarsveld
Publisher: Fernwood Press
Date: 2006
ISBN 10: 1874950806
ISBN 13: 9781874950806
Language: English
Weight: 2 lbs 9.8 ounces