Shopping Cart: Empty
->
Cactus & Succulents
->
Cactus Only
The Never Ending Story of Astrophytum Hybrids

Author: Roman Pavlica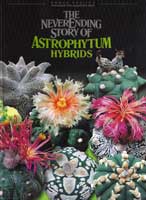 This book discusses a totally unique cactus genus and its amazing visual variability. It allows the grower to achieve endless possibilities in creating new plant shapes and flower colors.

In the first part of this book, Pavel Pavlicek returns directly to Mexico's home of this family and describes the original locations in nice photos. Furthermore, Roman Pavlica follows up on the cultivation in the European conditions and descries some of their procedures in working with these plants. In many photos he presents some of his created plants.

The second part of this book is a lot of mostly photographic papers documenting the results in growing plants by cactus friends all over the world.
List Price: $95.95
Your Low Price: $85.95
In Stock Now!
Specific Details
Hardcover: 316 pages
Illustrated
Title: The Never Ending Story of Astrophytum Hybrids
Author: Roman Pavlica
Publisher: Author
Date: 2019
ISBN 10:
ISBN 13:
Language: English
Weight: 3 lbs 9.4 ounces