Shopping Cart: Empty
->
Orchids
Field Guide to the Orchids of Europe and the Mediterranean

Author: Rolf Kuehn, Henrik Pedersen, Phillip Cribb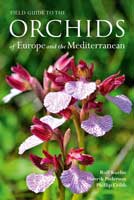 Field Guide to the Orchids of Europe and the Mediterranean is a comprehensive manual that pairs thousands of color photographs with expert guidance, making it easy for readers to identify the varied orchid species of this region. The authors bring decades of field and research experience to this project and combine their first-hand knowledge with the latest scientific research, making this the most thorough and up-to-date book available.

The book covers orchids from Europe and the Mediterranean, as well as areas in Turkey and the immediate near east of North Africa and Macaronesia. It includes thirty genera and their species including Ophrys, Cypripedium, Orchis, Dactylorhiza, Epipactis, and Serapias, as well as seventy natural hybrids. The authors emphasize the natural variability that exists in many wild species and work to eliminate the confusion that can arise due to the morphological variation. Each species includes multiple images to illustrate this diversity as well as notes on distinguishing features and distribution maps. Common names and important synonyms accompany each species alongside notes on habitat, flowering times, and distinguishing features.
List Price: $40.00
Your Low Price: $35.00
This item is on order with publisher
new orders will ship upon arrival.
Specific Details
Softcover: 320 pages
Illustrated
Title: Field Guide to the Orchids of Europe and the Mediterranean
Author: Rolf Kuehn, Henrik Pedersen, Phillip Cribb
Publisher: Royal Botanic Gardens Kew
Date: 2019
ISBN 10:
ISBN 13: 9781842466698
Language: English
Weight: 2 lbs 2.0 ounces