Shopping Cart: Empty
->
Trees & Shrubs
Remarkable Trees of South Africa

Author: Neels Esterhuyse, Jutta von Breitenbach, Hermien Söhnge, Izak van der Merwe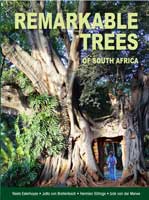 Where will you look for the biggest, tallest or most corpulent trees in South Africa, or trees that have witnessed major events in the country's history? These interesting specimens, and many others, are found in parks, nature reserves, on farms, on town and city streets and in private gardens – some perhaps even right on the reader's doorstep.

Remarkable Trees of South Africa journeys into the fascinating world of trees. Written in an easy, anecdotal style, the authors relate, in text and photographs, the historical, cultural and economical significance of South Africa's trees. Also included are accounts of the major tree families, as well as an overview of trees as monuments and in botanical gardens, parks and arboreta.

Now in its second edition, the text has been completely updated with additional information on Champion Trees and the authors' selection of the Big Five Trees of South Africa. Presented as a coffee-table book with full-colour photographs throughout, anyone with an interest in history and nature, South African flora in particular, will find this book an essential.
List Price: $38.35
Your Low Price: $34.95
In Stock Now!
Specific Details
Hardcover: 264 pages
Illustrated
Title: Remarkable Trees of South Africa
Author: Neels Esterhuyse, Jutta von Breitenbach, Hermien Söhnge, Izak van der Merwe
Publisher: Briza Publications
Date: 2017
ISBN 10: 1920217665
ISBN 13: 9781920217662
Language: English
Weight: 2 lbs 7.0 ounces