Shopping Cart: Empty
->
Cactus & Succulents
->
Other Succulents
Secrets of Namaqualand Succulents

Author: Florent Grenier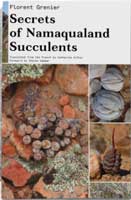 A blend of superb photography and natural history, featuring 710 succulent and geophytic species via 1126 pictures. The text addresses the plants' compelling strategies for survival and reproduction in their natural habitat, in an accessible tone. It is the most thorough publication on these plants, on most aspects.
List Price: $75.00
Your Low Price: $75.00
This item is on order with publisher
new orders will ship upon arrival.
This title is currently inactive.
Specific Details
Hardcover: 350 pages
Illustrated
Title: Secrets of Namaqualand Succulents
Author: Florent Grenier
Publisher: Author
Date: 2019
ISBN 10:
ISBN 13: 9791069933095
Language: English
Weight: 2 lbs 0.0 ounces