Shopping Cart: Empty
->
Cactus & Succulents
->
Other Succulents
Succulents Galore

Author: John Pilbeam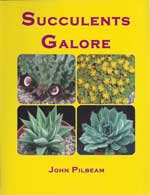 In this book, well-known author, John Pilbeam set out to include representatives of some 174 genera of succulent plants. With 866 photos providing approximately 5 species per genus. Each genus includes a brief, but relevant description. Thus, the book provides a very good introduction to the world of succulent plants. Excellent for those who find it hard narrowing down the many thousands of species by giving them a a better feeling for each group of plants. More advanced growers will likely enjoy this book simply because one can never have enough well grown or habitat plants to look at.
List Price: $80.00
Your Low Price: $77.95
This item is on order with publisher
new orders will ship upon arrival.
Specific Details
Hardcover: 400 pages
Illustrated
Title: Succulents Galore
Author: John Pilbeam
Publisher: Author
Date: 2020
ISBN 10:
ISBN 13:
Language: English
Weight: 4 lbs 0.6 ounces